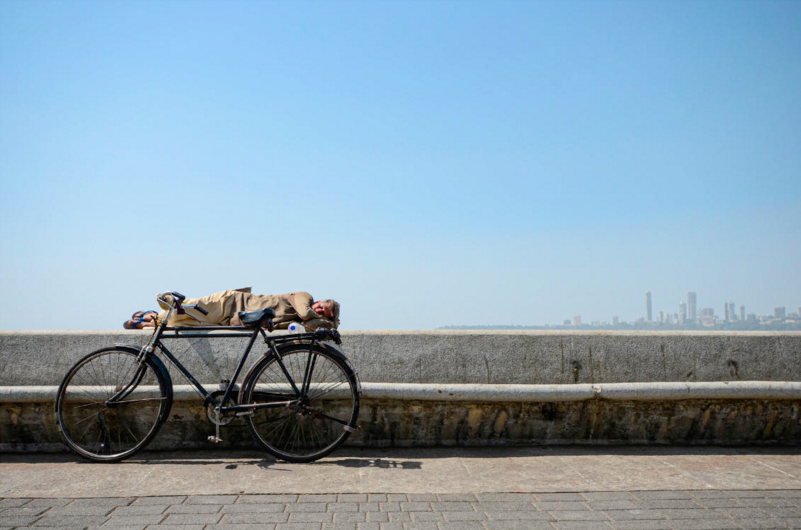 Title: Of Peace Caption: A man has a lunch time nap along the Bandstand Promenade on the western coast of Mumbai, India. Image Description: A photo of a man who is dressed in tan pants, a tan long sleeve shirt, and blue flip flops and lays horizontally sleeping on the ledge of a bridge, with a bright blue sky behind him. A city skyline sits to the right in the muggy distance behind the sleeping man, and a black bike leans on the rail below him.  Photographer: Lisa Burnell
The American Anthropological Association's Anthropology Photo Contest Application is now closed.
Anthropologists work all around the world, in the most diverse range of careers imaginable, and we want to highlight them. Photographs can be anything you believe relates to your work. Show us your work in the field, lab, or classroom.
We encourage applicants to submit up to three photos of their work for a chance to be featured in the 2022 AAA Calendar.
Anthropology Photo Contest Guidelines:
Photo contestants may submit up to three photos of their work.
For each photo please include a title, caption that provides information on when, where, why the photographer made the photo, how the image relates to the field of anthropology, and an image description that provides access to blind and low-vision viewers, as well as anyone who needs support processing visuals.
Photographs must be your own work.
Applicants must be a current member of the AAA to be featured in the calendar. Become a member and be featured in the calendar.
Non-members are welcome to submit photos that may be used on AAA web platforms and in other publications.
Selected photos for the calendar will be printed at 11×8 dimensions, photos that are not in landscape orientation will be cropped to fit the 11×8 layout. Images need to be high quality resolution, minimum 300 pixels per inch.
To be considered for the AAA Calendar, photos must be saved and uploaded correctly. The photos need to be first name underscore last name underscore photo number (1, 2, or 3). For example: FirstName_LastName_Photo1
The photographs may not portray any nudity or illicit activity.
You are more than welcome to submit up to three photographs, but only one will potentially be featured in the calendar.
After the applications close and the photos are processed, the AAA will put all qualifying entries on the AAA Facebook page for a vote. Voting is counted by any acknowledgement of the photo on the AAA Facebook page such as a "like" or "love" on the image. Please find the AAA Facebook page.
The votes will be tallied, and the top 12 photos, from 12 different AAA members, will be featured in the 2022 AAA calendar, which will be distributed at the AAA Annual Meeting.